Tooth Pain Dentistry is among the most in-demand dental services as toothache is a common problem, reported by people everywhere. Tooth pain can be one of the most excruciating and uncomfortable sensations one can experience. It can be caused by a variety of oral health issues and can range from mild irritation to an unbearable throbbing.
Fortunately, tooth pain dentistry has made it possible to address the majority of these problems. By visiting a dentist and undergoing various treatments, one can usually find relief from tooth pain. From fillings and root canals to crowns and bridges, dentists are equipped with the specialized tools and knowledge to help alleviate tooth pain and restore proper oral health.
Tooth pain may also occur after extraction, or it can originate from other areas and radiate to the jaw, appearing as tooth pain. Other reasons include cavities, an excess of bacteria, gingivitis, impacted wisdom teeth, or even teeth grinding (bruxism), headache, fever, and aches from applied pressure on the gums.
You can prevent most dental problems that cause toothache if you brush your teeth with fluoride toothpaste (twice daily), floss every day, and have your teeth cleaned by a dentist twice a year. 
Let's discuss the causes of tooth pain and why you need tooth pain dentistry.
Causes of Tooth Pain 
Tooth pain occurs because of the inflammation in the central portion of the tooth called the pulp, which contains nerve endings sensitive to pain. Dental cavities, trauma, and infection can cause inflammation of the pulp. 
The most common causes of tooth pain are discussed below:
Sensitive Teeth

A hard outer layer of enamel covers your teeth to protect the nerves inside. The enamel can wear away over time, and when the middle layer of your tooth is exposed, anything you eat or drink can reach your nerve endings, causing your teeth to become  sensitive.
Apart from enamel erosion, gum disease also makes your teeth sensitive. They shrink away from your teeth, thereby exposing the roots, which results in heightened sensitivity. Your teeth can also be damaged if you brush them aggressively. 
Damaged Teeth

Bacteria attack your teeth every time you eat something and cling to them until you brush them away. They produce acid, creating holes in your enamel called cavities.
A cavity or a crack can cause sharp pain and make your mouth sensitive when you bite down. If the cavity is deep enough, it can let bacteria into your tooth's inner layer or the pulp. The pulp can become infected, leading to a buildup of pus called an abscess which can also spread to tissue and bones.
Wisdom Teeth

You'll likely feel tooth pain when your wisdom teeth erupt or push through your gums.
The pain will only increase as your wisdom teeth grow, especially if they grow misaligned or sideways. They can press on nerves, bones, and surrounding teeth in this scenario. A wisdom tooth can also become impacted when trapped between neighboring teeth and jaw bones. This will only cause more discomfort over time unless you see a dentist right away. 
Sinus Infection

Tooth pain in your back upper teeth is a common indication of sinus infection. This occurs due to their proximity to nasal passages. If you're experiencing tooth pain and are feeling stuffy, there's a chance that you may have a sinus infection.

Dental Work

If recently you've undergone teeth whitening or just gotten fillings, you may experience tooth pain. Sensitivity can begin two to three days after the start of the whitening treatment. Tooth sensitivity may go away after a few days or last longer. Teeth whitening leads to your gums feeling irritated. Consult your general dentist if you are experiencing a lot of pain after undergoing  a teeth whitening treatment.

Oral Cancer

If your mouth and tooth pain isn't going away, it might be a symptom of oral cancer. If your mouth or teeth are hurting and you're noticing an unusual bump or odd-colored patch, tell your dentist about it so that they can perform an oral cancer check.

Not Drinking Enough Water

Not drinking enough water can be detrimental to your oral health as when you drink water, it washes away the leftover pieces of food stuck in your teeth after eating. Regular water also contains fluoride, which keeps your teeth strong. You may drink more water to avoid tooth pain and keep your teeth healthy.
Types of Tooth Pain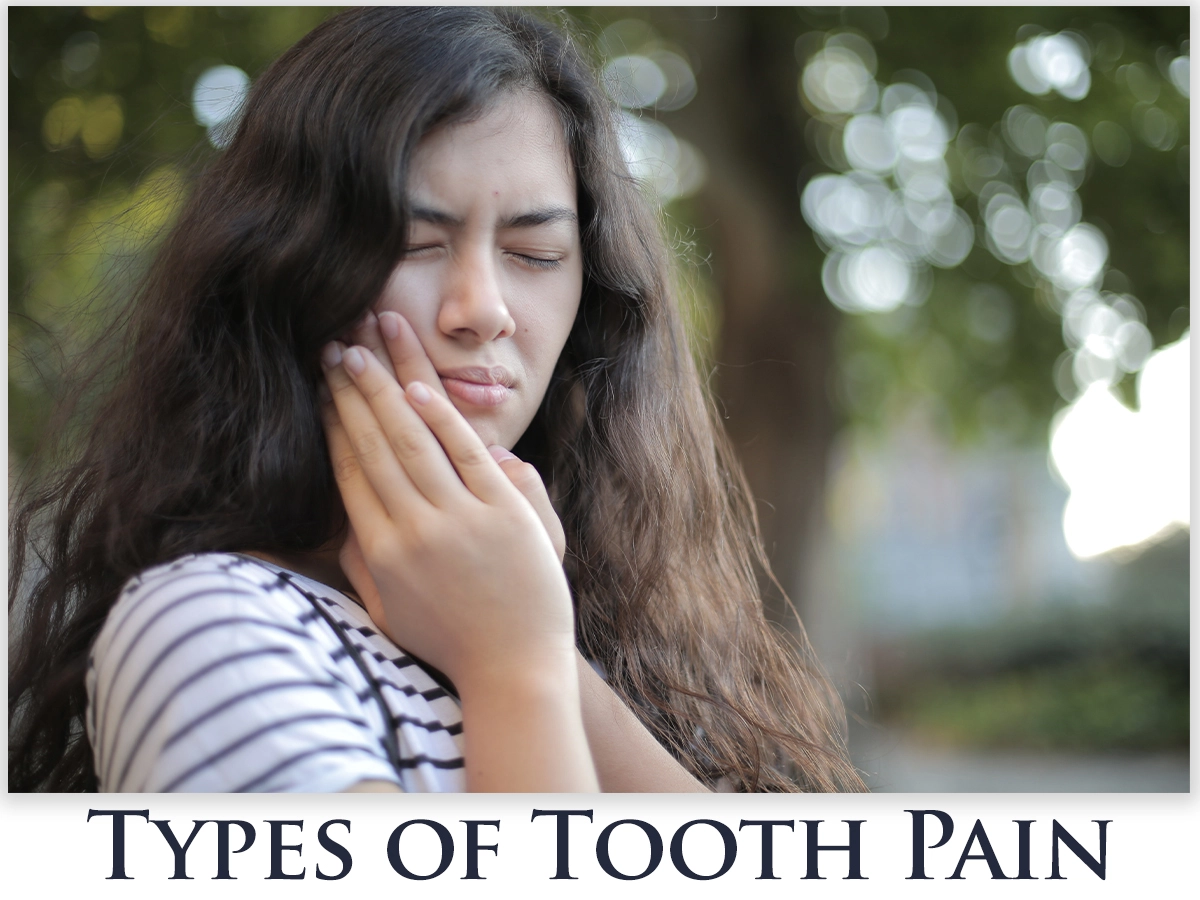 People often complain about tooth pain while eating or before bed. However, tooth pain can happen at any time and at any place. There are cases where people having tooth pain don't know where the pain is coming from.
Persistent or Dull Pain

This is the most common type of tooth pain experienced by most people. A few common causes of persistent tooth pain are
Something stuck in your gums
Something lodged between your teeth

Sensitivity

Tooth sensitivity can indicate a serious underlying issue. You need to pay attention to what triggers tooth pain and how long it lasts. If the pain is minor, then you most likely have worn down enamel. You can use toothpaste for sensitive teeth and avoid extremely hot or cold foods.

Sharp Pain

A sharp or jabbing tooth pain requires a visit to the dentist. Usually, this type of tooth pain indicates that a filling is loose or a crown has fallen off. If you don't have a filling or crown, the pain could be due to a fracture, decay, or wear and tear. A tooth's enamel may have cracked, or you may have a cavity that needs to be filled. 

Throbbing Pain

A tooth pain is distracting or unbearable at any time; if this is the case, you should contact an emergency dentist immediately. They will diagnose the cause behind the pain and start treatment to provide you with immediate relief. 
Tooth Pain Dentistry: When Do You Need It?
You should see a specialist for an accurate diagnosis when you're experiencing tooth pain. You can get relief from tooth pain with the help of some home remedies, but consulting a tooth pain dentistry specialist will be the best thing to do.
If you're experiencing severe pain, you should immediately seek urgent care from your tooth pain dentistry specialist. Any rapid swelling of the lower face and jaw can result in airway constriction and in some rare cases, even result in death. If you're experiencing any of the symptoms listed below, then you must visit your dentist immediately;
Swelling in the mouth or face

Visible pus in the mouth

Inability to open/close your mouth immediately

Swollen lymph nodes

Fever
Contact University Ave Dental for Best Tooth Pain Dentistry Today!
If you're experiencing any of the issues above related to tooth pain, you should contact your tooth pain dentistry specialist. No matter the cause of your toothache, we, at University Dental Ave, are ready to help you live a pain-free life. 
You can contact us by visiting our website or driving down to our office, located at 10155 University Ave NE, Suite #112, Blaine, MN 55434. 
You can also contact us on our phone at 763.784.1242 or drop us a mail at info@universityavedental.com.